Blog
Connecting with Members at the National Convention of Self-advocates Forum of India
The Self-advocates Forum of India (SAFI) is a national network of self-advocacy groups in India.
The Forum is supported by PARIVAR (National Confederation of Parents of India), which is a member of Inclusion International.
The Self-advocates National Convention was held in India in Navi Mumbai, Wasi. It was organised on the date of 11th and 12th March, 27th – 28th Falgun of Nepali date.
Shiva Shrestha, a regional representative of Inclusion International's council was included as guest.
Shiva took part with his supporter Subid from his hometown Dhading, Nepal.
People from Jharkhand, Odisa, Maharastra, Madhyapradesh and Rajastian took part in the convention. More than 200 members of SAFI attended.
Some of the guest speakers were:
Mr. Brude, President, Parivar Sahayadori (Maharastra & Goa)
Ms. Aditi Verma, President, SAFI
Dr. Pankaj Maru, President PARIVAR
Mr. Shiva Shrestha, Council Member of Inclusion International
Mr. Anand Metha, Motivational Speaker
Dr. Sara Varughese, Managing Trust, CBM
Maj. Ram Kumar, Director , NIEPID
Dr. Yogesh Dubey, Renowned,Personality
Mr. K.R.Vaidheeswaran,JS & CEO, The National Trust.
Mr. Deepak, Treasurer, SAFI
The convention was held with the theme 'WITH US Not for US'. This means that if any work happens on including self-advocates it should be conducted with the self advocates not for the self advocates. Every member in the convention talked about their views on the theme.
During the convention members from different states also talked about the work and projects that were conducted in their states.
There were sessions on different themes such as:
Privacy & Confidentiality
Discrimination
Inclusive Employment
Sheltered resident
Setting up SAFI groups
Sessions for self-advocates and mentors on adolescence & personal safety were also held by groups of girls and boys.
There were also activities like Yoga, Expression of Emotions and games.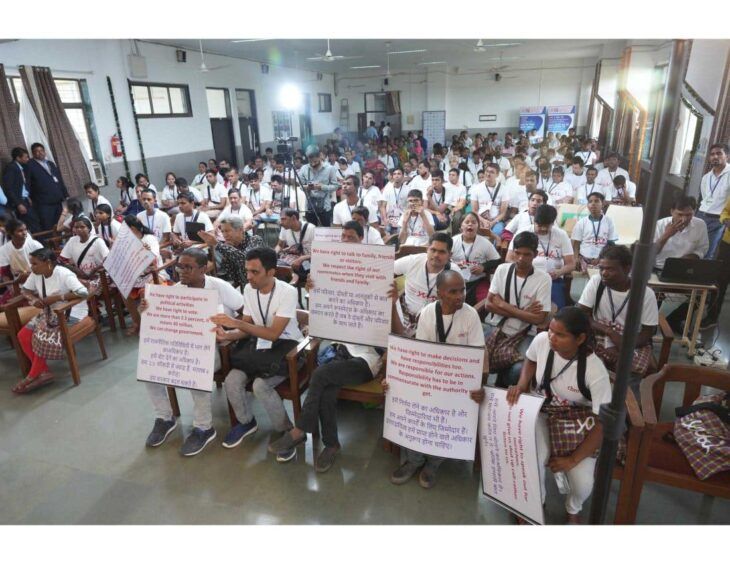 During the convention there were the elections for the SAFI executive committee 2023-26. Campaigning, Voting, Counting, and the Deceleration of results and installation of the committee all took place over the 2 days.
The members of the committee were elected by the self- advocates themselves. This means the self-advocates used their decision making skills and learnt about election processes
Members invited from Nepal were treated with a proper hospitality.