Blog
United Nations Easy to Understand Resolution meeting: How we took part
Living in the community
Legal capacity
Africa
The Americas
Asia Pacific
Europe
Middle East & North Africa (MENA)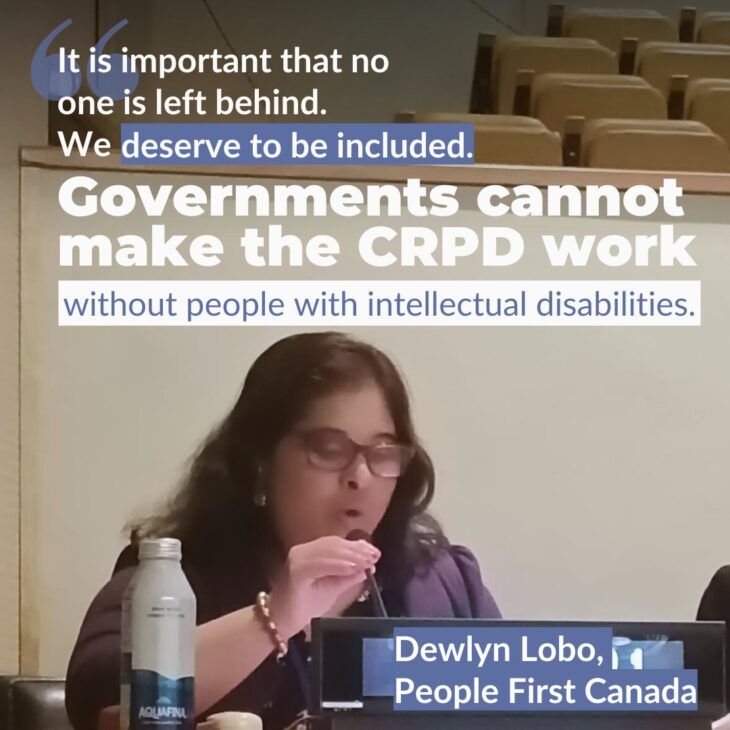 On the 12th June at the New York United Nations headquarters, the United Nations General Assembly held a meeting for its members abuot the new resolution on Easy To Understand communication.
You can read more about this resolution and who the General Assembly are by reading this article we shared in March.
This was an important meeting for the networks of Inclusion International and Down Syndrome International.
The Listen Include Respect guidelines were made together by our networks to help organisations, including governments, understand how to be better at including people with intellectual disabilities. The goal of the guidelines is that everyone can take part in the work and decisions that affect them.
During the consultations on Listen Include Respect our members told us that one of the biggest barriers for people with intellectual disabilities is the lack of easy to understand information and communication.
You can read more about Listen Include Respect and creating Easy To Understand communication by clicking here.
There is no inclusion without participation.

Ronie Vitorino Pires de Novais- Insituto Jo Clemente, Brazil
The goal of the United Nations General Assembly meeting on the 12th June was to hear from experts on Easy To Understand communication and for countries to share the work they were doing.
There were also opportunities for people from our networks to share their work and talk about why Easy To Understand communication is so important.
Inclusion International worked with our members to make sure that good examples and Listen Include Respect were shared in the meeting.
"You must include us at the beginning, not in the middle or the end… Listen to us, include us, and respect us."

Tia Nelis, Self-Advocates Becoming Empowered – USA
The state missions (governments) who spoke at the meeting were: Israel, Japan, the United Kingdom, Sri Lanka, Brazil, the European Union, Argentina, Georgia, Mexico, South Africa, Portugal, Sweden, and the Democratic Republic of Congo.
Our members from Argentina, Kenya, Brazil, Australia, Canada and the USA spoke during the meeting and shared their work.
We have practically witnessed how Easy to Understand Communication…has given confidence and power to people with intellectual disabilities"

Fatma Wangare – Inclusion Africa
Thank you to everyone who took part in the meeting and who contacted their state missions.
There is a long way to go until all meetings and communication at the United Nations and in our communities is truly inclusive and Easy to Understand for everyone. But the Easy to Understand Communication Resolution and this meeting were a positive step in the journey.
Our network will continue to use Listen Include Respect to work with United Nations Agencies, governments and other organisations so that the right to accessibility and participation protected by the Convention on the Rights of Persons with Disabilities is real for people with intellectual disabilities.
You can watch the half day meeting at this link. The recording is available in Spanish, Arabic, Chinese, Russian, French and English and International Sign Language.
Take a look at our Twitter thread from the event to see photos, videos and quotes. Click 'read replies' below.
🔴We're live from the General Assembly! It is now time for our afternoon meeting on easy-to-understand communication.

We will be sharing key moments throughout the afternoon below 👇 pic.twitter.com/xJurCads4h

— Inclusion International (@InclusionIntl) June 12, 2023