–
Zero Conference 2022
Online
During the conference 76 Zero Project Awardees of 2022 from 35 countries will be highlighted and recognized for their work in creating and improving Accessibility for all.
Also, key accessibility leaders from Civil Society, Business, ICT, and the Public Sector will share and discuss good practices that help in moving towards a world with zero barriers.
The entire Conference will be streamed live and for free via YouTube.
Presenting Listen Include Respect
Our programme, Listen Include Respect, helps organisations understand how to include people with intellectual disabilities in their work.
The Listen Include Respect team are hosting a side-session at the Zero Project conference to talk about:
The barriers people with intellectual disabilities face in being part of the work of organisations
Why making sure people with intellectual disabilities are part of decision making and activities is important
What the Listen Include Respect guidelines are and the goals of this work
During this session we will share a short example training on how to make meetings inclusive.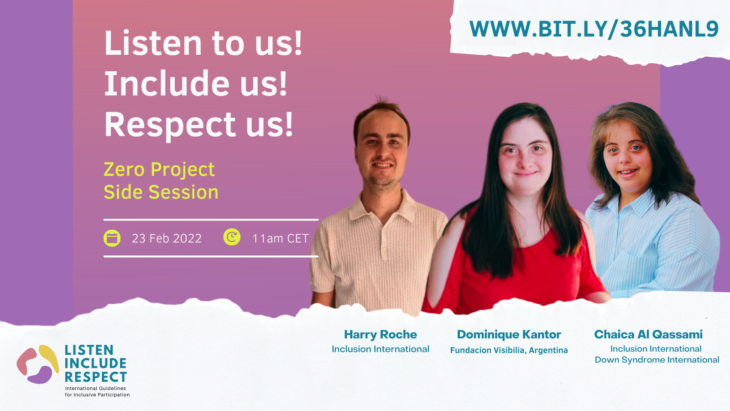 We will also host a Fireside Chat on Inclusive Meetings on Wednesday 23 February 2022 at 2.40pm CET.
Member Awardees
Congratulations to our Spanish member, Plena Inclusion, for receiving a 2022 Zero Project award for innovative and impactful work on accessibility.

Plena Inclusión Madrid was awarded for their Easy Read Dictionary, and Plena Inclusión España was awarded for their Easy Planet project, a website with news that is easy to understand.
Plena Inclusión Madrid will speak about Converting books and stories into accessible formats at the Zero Conference.