News
Self-advocates in Bangladesh call for inclusive employment
Inclusive employment
Ending discrimination
Asia Pacific
What is Empower Us?
Empower Us is our global self-advocacy training programme. The programme supports our members with their self-advocacy and inclusion work in their countries. Empower Us is led by self-advocates.
Who took part
Empower Us team members Mark Mapemba from Malawi, and Judy Huett from Australia, travelled to Bangladesh to facilitate the training, which was hosted jointly with two member organisations in Bangladesh, the Society for the Education and Inclusion of the Disabled (SEID) and Down Syndrome Society Bangladesh (DSSB).
16 self-advocates from SEID and DSSB participated in the Empower Us training session, and talked about their rights under the Convention on the Rights of Persons with Disabilities (CRPD), what it means to do advocacy, the need for good support, and the actions they can take in their communities on the issues that are important to them.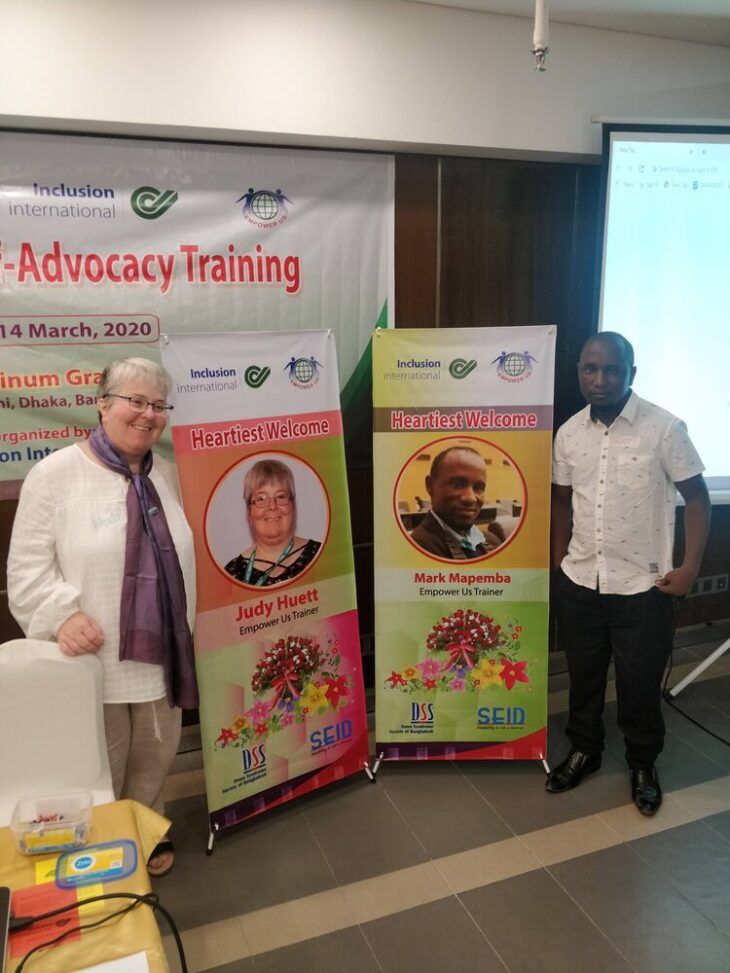 What happened
Supported by Mark and Judy, self-advocates came up with a plan for the action they wanted to take on key issues – they identified:
access to employment
access to education for children, and
being included in the health care system
as the top priority issues they wanted to do advocacy on in Bangladesh.
Talking about employment
This Empower Us workshop was delivered as part of the Inclusion Works employment programme so it had employment focus, with a full day of activities on understanding employment rights and developing an action plan for doing advocacy on inclusive employment in our communities.
Self-advocates in Bangladesh have had diverse experiences with employment and barriers to employment in their communities, and the group shared their experiences and challenges with seeking employment to help inform their planning.
Self-advocates talked about their expectations for how the government, employers, and their families can support people with intellectual disabilities to access to employment, and came up with some clear calls to action for these groups on promoting inclusive employment.
What next
Moving forward, self-advocates from SEID and DSSB have a plan to take action on advocacy for employment, education and health in their communities.
SEID and DSSB self-advocates are organised into self-advocacy groups, and part of their plan developed through the Empower Us training looked at how the two self-advocacy groups can work together to present a united voice for self-advocates in Bangladesh.