Who am I?
First I would like to introduce myself. My name is Harry Roche and I work for Inclusion International.
I attended the first ever Global Disability Summit in London in 2018 while I was representing Mencap and the European Platform for Self Advocates steering group which is a part of Inclusion Europe.
What is the Global Disability Summit?
In 2018 the Global Disability Summit was co-hosted by the Foreign, Commonwealth and Development Office of the UK, the International Disability Alliance and The Government of Kenya.
It was a new type of event as world leaders, government officials, Civil society, the private sector, the donor community, and Organisations of Persons with Disabilities came together to share experiences and ideas on how to work more inclusively and make big commitments to make the world better for people with disabilities.
How were we involved?
At the first ever Global Disability Summit our self-advocate Council members attended and spoke at the summit. Mark Mapemba, Council member from Africa, and Mia Farah, former Council member from the Middle East and North Africa were co-moderators for part of the event.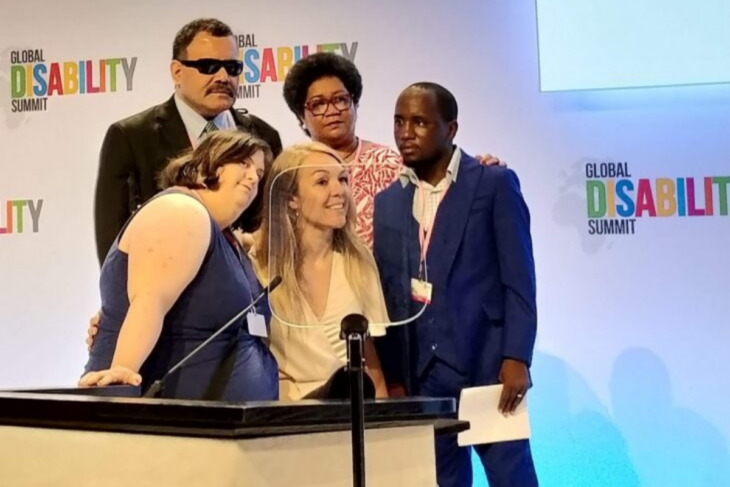 We also talked to governments and organisations, promoted our key issues and shared how the demands of our global network can be included in commitments being made at the Summit.
How did I find it?
I was there for two days and I attended workshops. It was good to be networking with other people from the disability movement.
Meeting other self advocates is very important as we have one goal; for people with disabilities to live an inclusive life.
I got the opportunity to take part in different workshops and express my opinions on how we can build inclusive lives for people with intellectual disabilities. Some of them were not accessible unfortunately.
I am hoping the second Global Disability Summit will be better even though we can't network in person this time.
Why is it important to take part?
During the second Global Disability Summit, self-advocates and families from our members will take part and share the big issues that are important in our network!
It is very important that self-advocates are involved in the Global Disability Summit so we can advocate for human rights for other people with intellectual disabilities.
We are one of the most excluded groups of people in the world, not many people think we can engage in society or at events like this even though we can.
Some of the most important topics that will be talked about at the Global Disability Summit for self-advocates are:
Community inclusion. We want to get people with intellectual disability into the community.
Employment. Getting more people with intellectual disability into paid jobs and receiving equal pay.
Accessibility and taking part. We are not always included or asked to take part in decision making in our communities for example in crisis situations like COVID 19.
Governments respect human rights by following the UN CRPD. We want governments and global organisations to make serious commitments to change the world for people with intellectual disabilities.
What next?
If you are interested in being part of the 2022 Global Disability Summit, it is happening on the 16th and 17th February online.
I have created some fact sheets on key advocacy events to explain them in plain language. You can find one of the Global Disability Summit here.
Follow Harry on twitter: @HarryRoche11